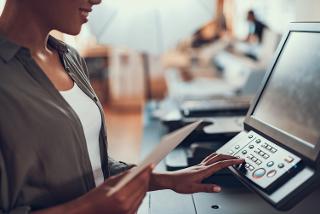 At Think! Printer Supplies, we put you in control of Printing Costs. Whether you're responsible for a printer fleet at a large organization, an office manager at a mid-size company, or operating a home-based business – our goal is to see that you get the most out of your printing budget.
There are several ways we work with you to reduce printing costs – though every situation has its own version of a unique solution. After reviewing your printing needs, we may recommend:
improving utilization of existing printing equipment
reduced pricing on OEM/brand-name printer supplies
installation of print management program to improve control & efficiencies while managing costs
lowering overall cost-per-page with a different printer
utilization of compatible ink or toner products
We are focused on service and offer our clients a full line of laser toner, ink and ribbon cartridges covering all major manufacturers and printer models. We strive to provide the best customer service and will work with you to properly select what is best for your printing application. We are confident that the time we invest in serving you will result in reducing your printing costs.
Think! Printer Supplies also offers a full line of printing equipment by many major manufacturers, like Hewlett Packard, Brother, Xerox and others. We provide new printers as well as remanufactured equipment with a manufacturer's warranty. You can also depend on us for expert repair service on printers from most major manufacturers.
We don't refill cartridges, we do work with factories whose core business is remanufacturing ink or toner cartridges. When you recycle with us we will make sure your cartridges are reclaimed and handled responsibly. Both the empty core and the cardboard packaging can be recycled. Reducing your environmental footprint is yet another service we provide.
Let us help you reduce your printing costs, contact Think! Printer Supplies today.
Click here
to learn more about our Managed Print Services Program